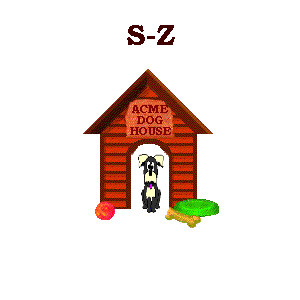 Sally... is owned by.. Jill, a Red Cattle/Kelpie mix Tess, a Ridgeback/Dingo/Red Cattle dog mix, and Meg, a cattle dog/border collie. Sally lives in outback Queensland, Australia on 400 acres. Sally's passion is raising orphans: wallabies, kangaroos, possums, and many native birds. Along with cows/calves, lambs, , ducks and chooks (chickens?). Click here to to learn more about Sally!

Samrock...is owned by.. Sam, a Beagle/Husky mix and Rocky, a Chow/Husky mix, despite the names, both are females! Kathy is a chemist and lives in Indianapolis, IN. Take a look at her furry family!

Sammy's Dad... is owned by.. Sam, a Lhasa Apso. Roger lives in Portland, OR and is retired. He spends all his time with Sammy. They go everywhere together! Visit Sammy's page!

San... is owned by.. Poopy, a male Dalmatian, Tisha, a female Dalmatian, Peanut, a mixed breed male cat she adopted, Meow-Meow, a stray black male cat she rescued in winter, Tabatha, an Abysinian female Guniea Pig, Thaddeus, an albino male Guinea Pig and Sandra also has three finches Rutger, Ethan & Ella. Sandra's late parents bred and showed Dals. Sandra is retired and lives in Lincoln, RI. Sandra has two adult sons and one is still at home with her.

Sandi... or Doc Sandi...is owned by.. Sarah, a German Shepherd mix, Serenity, aka "Devil Spawn", a "Heinz 57", and Bambi("Bams"), a squirrel that she nursed back to health, and now refuses to leave! Sandi is our dedicated bulletin board vet! She is 28 and lives in New Orleans. We are all very grateful for the advice Sandi gives:-) Click here to learn more about Sandi.

Sandy Paws... is owned by.. Princess Emily of St. James (Emmers), a Black Lab, General Lee, a Bluetick Coonhound (a Rescue), Cashmere, a 20 year old DSH kitty (Rescued from abusers when 6 years old), Pirate, Dragon and Wizard, all DSH kitties, (ALL Rescued Ferals), and we can't leave out Rastis, their first, after 17 years he went to the Rainbow Bridge on 8-7-98. Mary Jo is a Certified Public Accountant and lives in Baltimore, MD with her husband George.

Schnauzer Mom... is owned by.. Shadow and Krispie, both Miniature Schnauzers. Sue is a teacher and lives in Alberta, Canada with her husband, David.

Shadoe's Mom... is owned by.. Shadoe a Yorkie/Maltese. Janet is a stay-at-home Mom dabbling in homebased entrepreneurial endeavours. She lives in Sudbury, Ontario Canada with her Hubby and their two children.

Shadow's Mom... is owned by.. Try 3 for DC, an Australian Shepherd. Shadow, Ann's mixed breed, is at the Rainbow Bridge and will never be forgotten. Ann lives in Flourtown, Pa with her husband Rob. She is a Recycling Specialist.

Shawn... is owned by.. Jessica, a mixed breed, Martha, a Doxie, Bituminous (Toomey), Mulan and Pussy Footin, all three are kitties. Willie is a Blacksmith/Computer Technician, he has 3 children and lives in Texas.

Sheila... is owned by.. Kelly, a GSD Obedience Champion!, Holly, a "pavement special" (mix) who is very cute and cheeky! Carla, a German Shepherd who won Best Puppy and Best of Breed in her second Breed show!, Moppett and Ziggy, kitties, and Gandalf, also a kitty. She and her husband live in Africa, where she works at the University in Johannesburg. Dog training is her hobby. Click here to learn more about Sheila.

Sibe AKA Eileen is a dogsledder living in Terrace, B.C. Canada. She lives with a very understanding hubby and thirteen (still counting) Siberian Huskies and one 15 yr. old Chihuahua. She is a published writer and photographer and you will never guess what her subject is! She is also a grandmother with 6 (still counting) grandchildren, and three grown up kids. Click here to learn more.

Sibe1... ...is owned by many Siberian Huskys, Spice, Dreamer, Jet, Sassy, Lady, Sheeba Silver, Cheri, Oh, Good Grief, I give up! Go see her web page! Loretta would like to invite everyone to come and visit "Pair a Dice" Huskies(another great name!).

Sighthound... is owned by.. Winner, a Greyhound, June-Bug, a Borzoi, Keara-Boo, an Afghan Hound, Arrow, a Scottish Deerhound and Petey, Max and Bazzle, all Rats. Jenya lives in Olympia, WA with her husband Ian, she is a Business Office Manager. Click here to take a peek at her homepage.

Sirius... is owned by..Siri, a Samoyed, Fani, a Finnish Lapphund, Tuikku, a Throroughbred mare and Sandi , Tuikku's filly. Sirius lives in Finland! Click here to learn more about Leena.

Skeeter... ..is owned by.. BJ (Spaniel mix) and Buddy (Lab mix) Both of my dogs are rescue dogs. BJ was adopted from death row at the shelter. He had periadontal problems and nobody wanted him. He is the best dog ever! Buddy was also adopted form the shelter. His former family thought he was to rowdy. Find out more about Carrie.

The Skeptic...is owned by.. Mr Dawg, Yellow Lab, Prissy, Black Lab, Ginger, Chow/JRT mix, and Sheba, Chow/Pit Bull mix. Gerard lives in LaPlace, Louisiana with his wife, Cheryl. He is a Geologist.

Sneaky Pie... is owned by... Timmy (Larkol's Rise to the Occasion) , a Weimaraner, Teers, a Collie/terrier mix, Snuffy, a mischievous, but very smart, cat, and Alee, a loveable ... cat. Louise is an Accountant, public practice, and she lives in New Liskeard, Ontario, Canada with her hubby Jacques. She has 5 children, all grown up; 2 grandcats, and 1 grandpuppy! Read more.

Specialty...is owned by..Sarah, a Golden Retriever, Shadow, as in Buddy's Shadow, a Golden Retriever, Sammy, a Toy Poodle, Star, a Teacup Poodle, Poco, a Parrot, Katie, a cat and many Rabbits and Guniea Pigs. And of course there is Buddy, who passed away September 22, 1998, just a month and a day before he would turn 1. Click on his name for his very own page because he is still in their hearts. Linda does Accounting and lives in Ingersoll, Ont with her husband Peter. Linda has 4 children and Peter has 2. Check out their home page.

Spot... Ellen is a R.N. who currently lives in Ohio. She is planning to move to London, England in Sept. 1998 to nurse for 12 months. Ellen is owned by Oscar and Duke Visit her homepage!

Stoney Earnhart... is owned by.... Torah, a Mix breed, Nomad, a Malmute/huskey mix, Aslan, a Collie, Darby, a dog-hybrid, Mr.O.Mally and Cloudy, cats, Mr and Mrs.Corny, Ducks, and Easter, a rabbit. Stoney is a student in Jacksonville, Arkansas.

sundown... is owned by.... Zia, an American Eskimo..formally known as CH U-CH BESOTA'S JADZIA DAX OF VEGAS, CD, U-CD, CGC, TDI, TT, Jep, an American Eskimo..formally known as WAHL'S MILD MANNERED JEP, CD, U-CD, CGC, TDI, Charlie, an American Eskimo (imagine that)..formally known as..WAHL'S DREAM CATCHER and then there is Velcro, a Brown Tabby Cat (not an Eskimo, LOL). Mary is a Computer Help Desk Analyst and lives in St. Paul, MN.

SR

Talysmyn... is owned by...Webster... a Lhasa Apso, Winston, a Chow mix and Fweep, a Cockatiel. Marsha is a Sr. Tax Audit Clerk and lives in Dunbar, WV with her husband, Bill, they have 3 children.

Teddie's Mom... is owned by.. Teddie, a Corgi-Mix, She is an Office Manager and lives in Atlanta, Georgia with hubby Gary. Click here to read more about Dara and Teddie.

TeresaR... is owned by two labs, Beauty and Lisa. She lives in North Carolina, with her husband, where they are both in the military. Click here to learn more about Teresa.

The Lone Wolf... is owned by.. Buddi, a Collie/English Springer Spaniel, Kena, a Rough Collie/Husky, Shassi, a Shiba Inu, and two kitties, Gremlin and Puttee. Julie is 20 years old and lives in Nanaimo BC. She is currently getting her BA at Malaspina University-College. Click here to learn more about Julie.

Three Dogs... is owned by.. Katie, a small mix, Tori, a small mix and Dixie, a small mix. Jenny is a Loss Control Analyst and lives in Bountiful, Utah.

Thunder.. is owned by.. Thunder a, German Shepherd She is in Commercial Real Estate, and lives with husband Dan in Edmonton, AB Canada. Read about Michelle's rescue.

Timi... is owned by Lizzy, a Pomeranian puppy. She and spouse Jim were just married in June of 1997, and they live in Eagle, WI. Timi is a student and does PC application support. Click here to learn more about Timi.

Tinidogz... is owned by.. Coco, a white Chihuahua, and four cats. Louise is married to George & they live in San Antonio, Texas

TNT... is owned by.. Boo Boo, a Chihuahua/Pom mix, Brandy, a Shepherd mix, Bailey, a Queensland Heeler mix, and Sunnee D, Alex and McEntire, her birds. Tammy is 29 years old and lives in Northern California. She has worked for the last 10 years with disabled children and adults. Click here to learn more about Tammy.

Trac... is owned by.. Ravyn, a German Shepherd, Shyloe, an American Cocker Spaniel, Cheyanne, a Rottweiler, Simba and Pebbles, her kitties, Mr. Scweaks, a parakeet, and Flurry, a rabbit (her baby too). Tracie is a homemaker (and resident "zoo keeper")*VBG* She and her hubby David live in St. Louis Missouri.

Trace...is owned by.. Piper, She's a Champion French Bulldog (spayed), 4 yrs. old, Molly, Standard Poodle with a CD, CGC, TDI, 6 yrs. old, and Tisha, a calico cat, she's 12. Tracy is a RN in a busy cardiology unit, and she shows in conformation, obedience, and does pet therapy. She is very active (Board of Directors) in her local all-breed club. Tracy lives in Wichita, KS, with husband, David and their "human" children, Courtney and Chloe, 10 yrs. and 7 yrs.

Tracy...is owned by.. Heathen, a Mix, Bubby, a Mix, Stanley, a JRT, and let's not forget the kitties, Mojo, Furr Baby, Puddin'taine and Gilbert, all DSH cats. Tracy is an Attorney/Judge and lives in West Virginia. When filling out the addme form guess what she put in the "spouse box"........."are you kidding....with all those pets?" LOL, at least we know she has a sense of humor in addition to "all those pet" !

Urge to Herd consists of 2 Border Collies, who own Ruth and Terry, and a couple cats too. Samantha (Sammie) is almost 4, and is the Best Dog in the World, a champion herder of squirrels, vacuum cleaners, and other dogs. Shoshona, 2 years, (also the Best Dog in the World) mainly concentrates on herding Sammie, and she has a fine singing voice. They hope to start herding lessons and agility soon. They live in Northern California, Ruth and Terry are almost newlyweds, 2nd anniversay in July of '99. Terry works for the Post Office, yes, they know all the jokes, and Ruth is a Professional Orgainizer.

Valerie... lives in San Pedro, CA with her husband Terry, a high school English teacher. She is a freelance writer. Their baby is: Butch, a Lab/GSD mix. (Also known as "Big Head", "Babaface", and "Big Man".) He is just like a person, only with fur. Butch is LOVE, LOVE, and MORE LOVE (and only posed for his picture because the photographer was holding up a bone!)

Vicki... is owned by.. Buckley, a pointer mix, Jackson, a golden retreiver/springer spaniel, and Cleo, Nicki, and Aspen, kitties. Vicki is a Research assistant in environmental microbiology, and lives with hubby Mike in Lansing, MI.

Whisper... is owned by.. all Shelties. Feather(right) is a female sable and a perfect Lassie lookalike. Whisper(left) is a female, bi blue, a bit oversize, but just as perfect as can be. And the newest edition, Raven who has been shown in the conformation ring with her previous owner is a female, bi black. And lets not forget China the cat, a long haired calico. Jan lives in Bonita Springs, FL, with her husband George and adorable daughter, Katelyn. Her son, Jason lives near by. Jan works for a local newspaper as an Advisor in the classifed department and also pagenates the paper. Jan's web pages can be seen here.

Winnie... is owned by... Bayleigh, a female spayed Lab mix and Griffin, a male neutered Dalmatian. Heather lives in Nanaimo, B. C., Canada. I would highly suggest you check out her webpage.. it's very nice and well put together!

Zan lives in the Twin Cities with her significant canine other, Cody. Zan is a former attorney, and Cody is an ex-police dog. Anyone thinking of adopting police or military dogs should feel free to contact Zan! Zan also volunteers at a local shelter, and loves to give tours to anyone who might be interested in getting a dog.


---


---